Many investors know that stock markets change, but they don't realize that bond markets also change, and different kinds of bonds tend to do well in different market environments.
Lower-quality bonds, like high yields, may hold up better than higher-quality bonds when interest rates change. When interest rates are low, high-yield bonds may be one of the few areas generating any meaningful yield for investors.
High-yield bonds are more correlated to the stock market, so they typically fall out of favor during stock market declines and economic crises. High-yield or "junk" bonds have a higher risk of default, and defaults tend to increase when the economy is under pressure. During the 2008 credit crisis, for example, some high yield bonds lost 25-30%.
It makes sense to consider owning high-yield bonds in your fixed income portfolio, but given the volatility of these lower-quality bonds, you should also have a strategy that can help you know when to own high-yield bonds and when to avoid them, and that's what the FundX Flexible Income approach is designed to do.
The FundX approach to fixed income investing
The FundX approach to fixed income is designed to adapt to changing bond markets, and it has a good track record of owning high yields when they're in favor.
The chart shows how the FundX Flexible Income Fund (INCMX)'s high-yield exposure increased when high yields were doing well and decreased when higher-quality bonds, such as intermediate-term bonds (as measured by the Bloomberg Barclays Aggregate Bond Index) or short-term bonds (as measured by the US Treasury 1-3 Years Index), had stronger returns.
INCMX had no exposure to high yields in 2008 when high yields experienced double-digit losses, and it moved back into high yields as the markets recovered. Given the volatility of high yields, we limit INCMX's high-yield positions.
We didn't have to predict how high yields would perform in advance or try to guess how economic changes would affect the bond market. Instead, we simply followed our strategy and it helped us know when to incorporate high yields and when to focus on higher-quality bonds.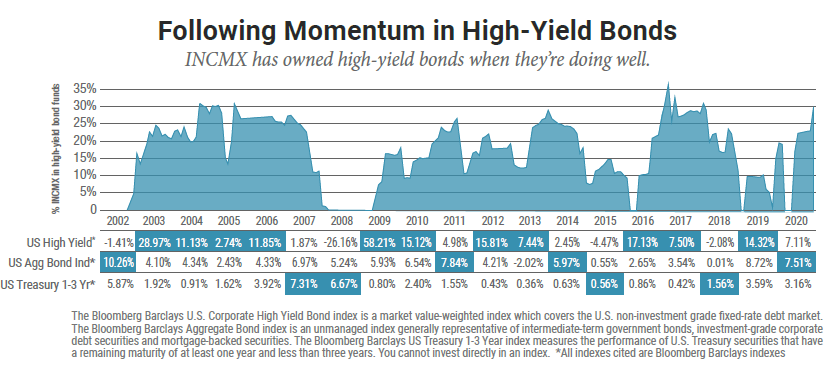 Index performance is not indicative of fund performance. To obtain standardized fund performance, click here.