Twenty years ago, we launched our first mutual funds, and in 2022, we turned two of the funds into ETFs or exchange-traded funds.  
FundX Upgrader Fund, our flagship equity fund, is now FundX ETF (XCOR) and FundX Aggressive Upgrader Fund, our aggressive equity fund, is FundX Aggressive ETF (XNAV).   
The new FundX ETFs are actively managed portfolios of exchange-traded funds (ETFs) that aim to give investors the tax efficiency and trading flexibility they expect from ETFs with the professional management and investment opportunities of actively managed funds.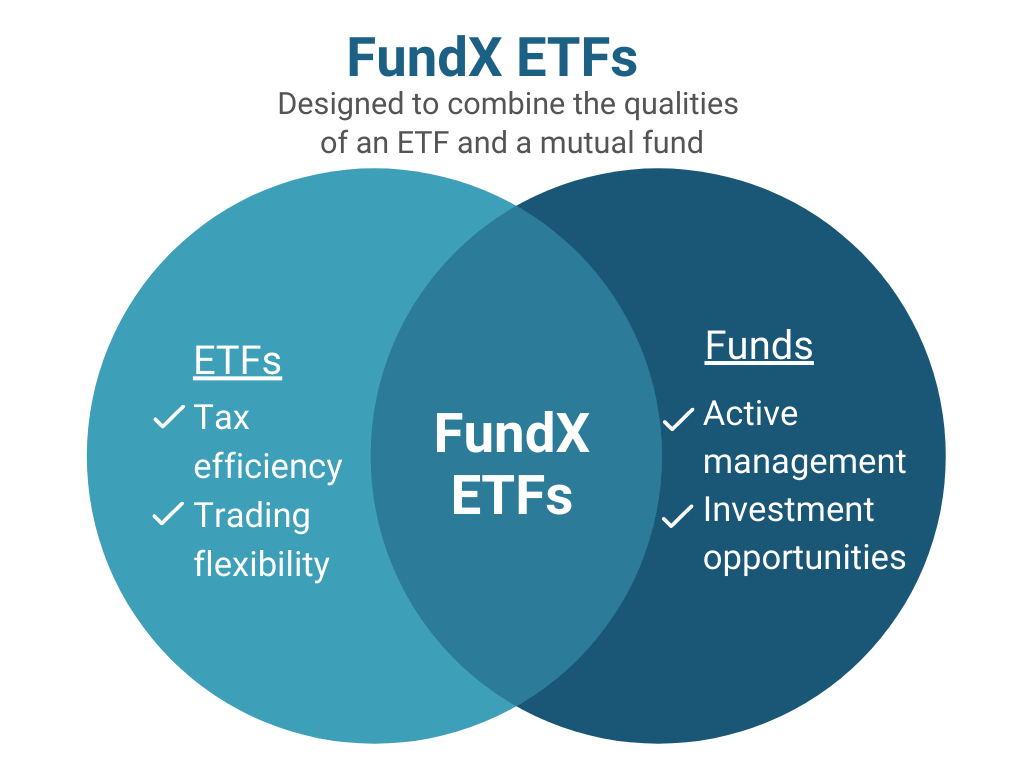 XCOR, formerly FundX Upgrader Fund, could be a core holding: it owns a full portfolio of diversified equity ETFs that target market-level risk.
XNAV, formerly FundX Aggressive Upgrader Fund, provides exposure to sector rotations through a portfolio of concentrated equity ETFs, such as sector and single country ETFs, that tend to have above-average risk. 
Why invest in the FundX ETFs?
A good fit for taxable accounts

ETFs are generally tax efficient because ETFs typically don't make capital gains distributions.

Actively managed to capitalize on new opportunities

Since ETFs have fewer trading restrictions than most mutual funds, the FundX ETFs can take action quickly.

Available to everyone

ETFs have no minimum investment requirements (most ETFs are available per share), and you can trade them throughout the day. 

Transparent so you know what you own

FundX ETFs disclose their entire portfolio each day, so you know how you're invested.
Invest in the FundX ETFs today
You can invest in the FundX ETF (XCOR) and Aggressive ETF (XNAV) through your online brokerage account at major brokers such as Charles Schwab and Fidelity.
Not sure which FundX ETF might be best for your goals and needs? Contact FundX and ask to speak with an adviser.